Accessibility: Hotel rooms are split between two stories without an elevator; the conference center has elevators for attendees with mobility needs. If you require a first-floor room, please book a Deluxe Room. If you require roll-in showers, book a Deluxe Queen then call the hotel at 702-796-3322; ask to speak to an on-duty manager so that they can make sure your reservation is an ADA room.
Booking Dates: The con has Thursday, Friday, Saturday and Sunday booked for hundreds of rooms. On other dates, the con has a few dozen courtesy rooms. We recommend grabbing your preferred room type for Thurs-Sun first, then extending it later by calling the hotel or modifying your reservation.
Parties and Noisy Block:
All Noisy Block rooms have extended quiet hours of 2 AM rather than 12 AM. To book a Noisy Block Room, book an Extended Stay room (a room with "Extended Stay" in its name). The Noisy Block is only in effect for buyout dates (currently Friday, Saturday and Sunday). Buildings 26, 27, 28, and 29 are the best buildings for louder gatherings; you do not need to be a host to be in the Noisy Block. Extended Stay rooms all have a stove and full-sized fridge.
Building 25 is Extended Stay, but is a staff/dealer building where noise policies will be more strictly enforced.
The Alexis Park has a strict No Party Policy on dates which the convention does not have a hotel buyout. Buyout dates are Friday, March 29th, Saturday, March 30th, and Sunday March 31st. "Parties" are defined as gatherings of more than 4 people in a room. If hotel security finds a room in violation of this policy, they can evict without warning.
Identification: The Alexis Park requires the name on the credit card used to reserve the room and photo ID match. LVFC is 21+ for 2024, and guests must be 21 with a government ID to check in.
Deposits: The Alexis Park charges one night's room and tax up front to secure a room. This is refundable so long as cancelled by 48 hours prior to arrival.
Check-In. When you check in to the hotel, you will be charged a flat security deposit of $75. The incidental deposit will be refunded after checkout if the room is not damaged. The incidental deposit will also cover room charges at the on-site bar, room service, and restaurant. We recommend using a credit card to pay the incidental deposit as debit cards can take longer to release after checkout. Check-in time is 4 PM, but the hotel allows early checkin (based on availability) for a fee of $25.
Confirmations: Sometimes room bookings do not show up immediately. If you do not receive a confirmation, we recommend calling the Alexis Park at 702-796-3322 to verify your reservation.
Roomshare: We recommend the use of our official Telegram chat for finding roomies. While room share is almost always a safe practice to save money at a con, LVFC is not responsible for any possible misconduct by your roommates. We encourage you to use your judgment in deciding who to room with.
LVFC 2024 will be held at the Alexis Park-All Suite Resort. The Alexis Park has a variety of suites, including long-term stay rooms. When you are not attending the convention, the hotel is also only a few minutes from the famous Las Vegas Strip and all it has to offer.
Hotel rates are as follows: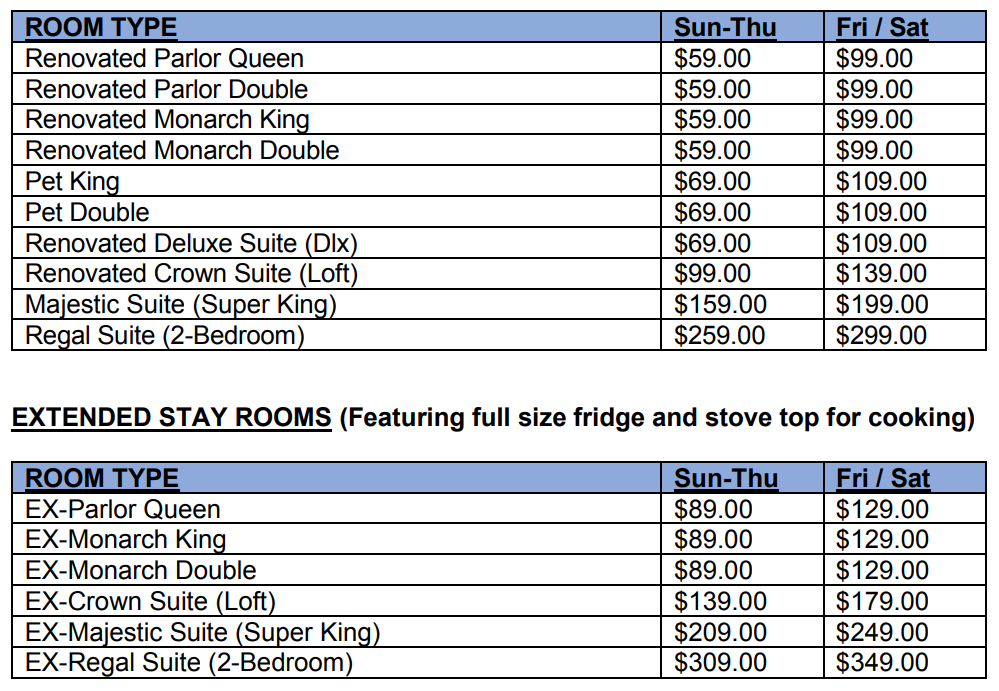 Room rates do not include resort fee of $20/night and tax of 13.38 percent. After tax and fee, the lowest room rate is approximately $450 total for Thursday, Friday, Saturday and Sunday.